Food Truck Loan Rates
The food truck loan solutions offered at Food Truck lender do not require any collateral and have low, fixed interest rates and flexible loan terms that work with your business goals. When you apply at Food Truck Lender, you can rest assured you are getting the best deal.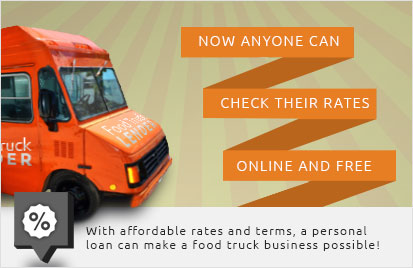 The loan options at Food Truck lender have fixed interest rates that range between 5.99% and 35.36% depending on your credit history; however, even those with less than perfect credit are still eligible to apply at Food Truck Lender. Poor credit should not disqualify you from starting the food truck business of your dreams. These loans also have loan term lengths of your choosing (1, 3, or 5 years), and there are no early repayment fees. You can view and approve of your upfront loan terms before committing to your loan.
The application process takes just a few easy minutes. Don't procrastinate starting your dream business. Apply for up to $40,000 to get your food truck business rolling!

APPLY FOR UP TO $40,000 NOW
Become a Mobile Chef - Apply for a Food Truck Loan Today!

Reach more customers and make more money with your own fully mobile restaurant.

America's growing Food Truck industry has over 15,000 trucks and over 650 million in profits.

Food Truck Lender offers financing options to buy a new or used food truck.

Go where the money is: festivals, parties, street corners, catering events, and more!

Starting a Food Truck business is 90% cheaper than opening a restaurant.

We feature a paperless and convenient loan application process that takes just minutes.
Would you prefer a Personal or Business Loan?
Client Sign-In Form
INVALID USERNAME/PASSWORD OR LOAN ID. PLEASE ENTER VALID INFORMATION.
OR